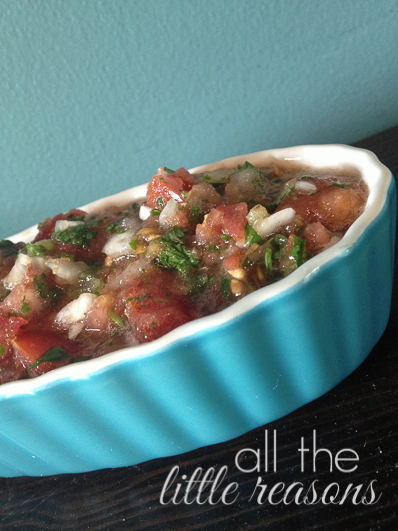 What is a Superbowl Party without salsa?  Salsa from a jar is ok, but using your own fresh ingredients really kicks up the flavor profile and impresses your guests!  So here's the salsa recipe that's passed on through my family in Southern California.  It's authentic!
28oz. canned tomatoes, or 3-4c. fresh tomatoes (I LOVE to use fresh tomatoes here.  I normally cut them in half, scoop the seeds out and dice.  But in the middle of winter, they can taste gross.  So a 28oz. can of tomatoes, diced works beautifully.  The flavor will be different, but I do both, depending on what I have on hand).
1 onion, diced (I prefer vadalia)
1 fresh jalepeno (I remove half the seeds and it's about medium heat)
1T. oil
1T. vinegar
1T. lime juice
1/2t. mexican oregano
1/3 of a bunch of cilantro, finely chopped
1 clove of garlic, minced
salt to taste – oh and make sure you taste it with a chip because they are salted.  So if you add too much salt and then dip a salty chip in it, you're toast!
I prefer this pulsed in the food processor a couple times, but it's totally not necessary. As with all the best dips, this is best after it sits for a little bit, but i normally make it right before I need it.  Yup, I'm a procrastinator!
So impress your guests and serve homemade salsa.  Everyone will be glad you did!
Oh, and if you're looking for a low carb option, don't rule this out!  There's no sugar in this recipe, and you can serve it with some delicious low carb chips.  I'm working toward being a Trim Healthy Mama, so when I eat this on chips, I just take my Joseph's lavash and spray it with a bit of olive oil, sprinkle with sea salt and broil for just a min or two.  Don't actually do it for two minutes without checking on it or it will look like this.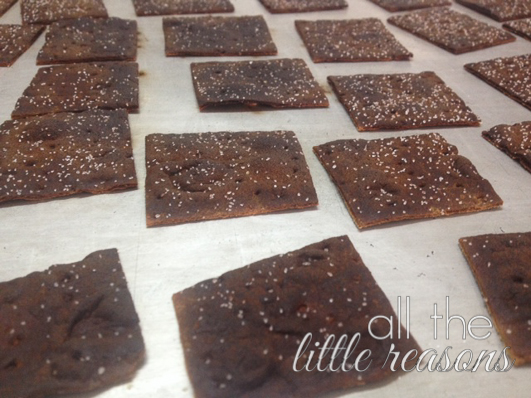 I put it in for a minute, flip them and then put it in until I see them get golden.  Pull them out quickly and you'll have this!  It's a perfect low carb, Trim Healthy Mama Superbowl snack!