Years ago, my friend and I tried a soup from Rachael Ray's talk show that we didn't know would turn into a family hit.  Sadly, I forgot about this recipe for a long time.  But then I was walking through Costco at dinner time and my kids were wolfing down free samples while I was racking my brain to figure out how I could make a super fast dinner when I got home.  I did not want to fall into the $1.50 hot dog or $1.99 pizza temptation that was going to hit me when I checked out.  Then, before me was a piping hot, juicy rotisserie chicken and I remembered this recipe!  It couldn't be easier, and 20 minutes after I unpacked the car, we were sitting down to this deliciousness…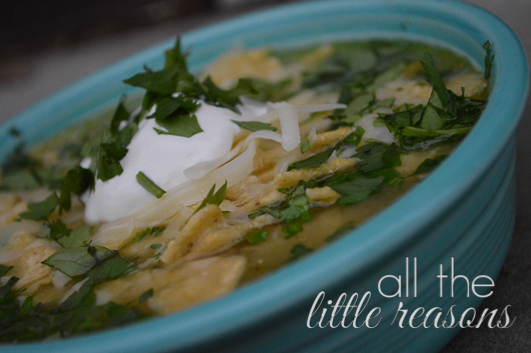 Here's the answer to your next dinner dilemma — especially because everything but the chicken is shelf stabilized, so you can have them on hand to make in a jiffy!
I replace chicken stock with organic Better Than Boullion in a huge jar that I get for under $7 at Costco.  It's seasonal, so I can only get it in the fall.  Last year I didn't know that, but this year I stocked up!
Sautee onion in olive oil. While it's cooking, remove the meat from the rotisserie chicken and shred.

After 3-4 min. of cooking onion, add microplaned garlic and cook until fragrant, about 1 minute.

Add jar of salsa verde, rotisserie chicken and chicken stock. (I use 4c. water and 4 teaspoons chicken base).

Season with salt and pepper to taste. Cook for a couple minutes to melt flavors.

Serve topped with cheese, sour cream, tortilla chips and chopped cilantro.